Note : This workshop is offered in English language. Both facilitators also speak Dutch if occasional translation is needed or you are more comfortable expressing yourself in Dutch.
What will we do
To celebrate the Spring Equinox and the transition into Spring, we will immerse in a full day journey of the Work that Reconnects.
This work is based on the vision and teachings of Joanna Macy and supports us to develop our well-being & vitality, our inner resources and community in the face of uncertainty around social and ecological transition. The Work that Reconnects offers a rich variety of profound psychological and spiritual practices inspiring a shift in consciousness and transforming our denial or helplessness into empowered, creative and collaborative action. These practices are interwoven in a dynamic Spiral structure across the following 4 stages:
1) Coming from Gratitude,
2) Honouring Our Pain for the World,
3) Seeing with New and Ancient Eyes,
4) Going Forth.
During our day together we will propose a series of practices that are an invitation to explore these four steps through our imagination, intuition, emotions and creativity. This will help us to restore our sense of belonging to nature so we can find the strength and clarity to better define the role we can and wish to play in a social and ecological transition.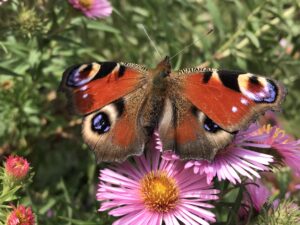 Benefits
Join us for a day of deep connection with self, others and Nature, which will leave you feeling resourced, energised and inspired to live in a balanced and harmonious way with all of Life.
For whom
For everyone who is concerned with the current state of the world and wishes to put their energy towards the creation of a life-sustaining society.
Everyone is welcome, whether you are familiar or new to this work, engaged with social and ecological work, aspiring to engage, or simply craving some time for yourself to recharge your batteries.
Facilitators Marjorie Lumet & Annette Wijbrans
This work was passed on to both of us during a Work that Reconnects facilitator training in the fall of 2021 by Roseaux Dansants & Transalquimia; two organizations that continue the Work in the same line as its root teacher, Joanna Macy.
Marjorie Lumet
I've been facilitating mindfulness trainings for 8 years, guiding others to awaken to the fullness of each moment. As a nature lover who feels rising concern around the ecological crisis, I was however missing a more engaged form of mindfulness. I also became well aware how much being outdoors in a mindful way was so essential to our vitality & well-being.
The Work that Reconnects is a deep work that encompasses all these dimensions of mindfulness, nature connection, meaningful community as well as engagement in service of Life. It is a real honour to be able to share this beautiful body of work around me.
Annette Wijbrans
I'm a member of the scouting association 'les Eclaireurs de la Nature', in Grenoble, France, where I live and organize nature outings and summer camps for children and young people, with the goal of helping them find a way to live comfortably in Nature, find their place in the world and to learn mindfulness.
I'm also a student in the realm of medicinal and edible plants, which for me is a way to profoundly connect to the natural world, through reciprocity and gratitude. Practicing the teachings of Joanna Macy in daily life helps me find the strength to sustain the gaze of the suffering in our world and helps me to strive for a more life-sustaining direction of our society.
Practicalities & Price
In the spirit of conscious contribution, as well as openness through hopefully accommodating diverse social groups, there is no fixed price tag for this event. Decide for yourself if you are able to pay 30, 60, 90 euros for this full day event. Part of your contribution will go towards Voedsel Park Amsterdam to support organic local food, local nature and biodiversity, check it out here  Home – Voedselpark Amsterdam, more information will be shared on the day.
There will be some snacks on offer but please bring your own lunch and anything you wish to share with the group.