AWAKEN YOUR POTENTIAL RETREAT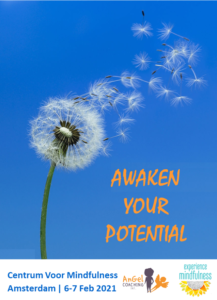 Do you want to awaken your potential and live a more fulfilling and purposeful life?
Through a combination of mindfulness, coaching and conscious movement become more aware and embrace who you are, clarify your life vision and take action towards it.
Join us for this 2-day meditation retreat: a unique experience to unleash your potential, spread your wings and create the life you want.
NEXT EDITION coming up in Spring 2023, stay tuned!
We believe that when we embody what is closest to our heart we can thrive.
Check out our October 2020 retreat video and testimonials for a glimpse of what to expect.
Photo credits Melody Rae
Anne from Angel Coaching Int. and Marjorie from Experience Mindfulness will be your guides during this 2-day unique experience.
Some of the things you'll learn in our time together:
– Gain more clarity on your life purpose and values
– Make a plan to align your actions with your vision
– Deepen self-awareness & presence through mindful practices
– Shift your mindset to invite greater well-being and happiness into your life
– Become conscious of your limiting beliefs and begin to move beyond them
– Embrace yourself as you are through powerful self-compassion practices
– Build resilience and learn to work with challenging situations
– Develop higher body awareness and embodied presence through movement (pilates, dance, etc.)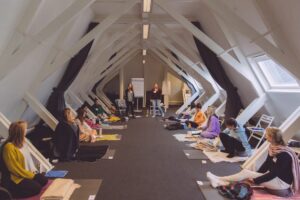 About us:
Anne is a Certified Life and Professional Coach with a strong business background mostly spent in multinationals across Europe. She helps people to better understand their values, unravel their limiting beliefs and grow their inner strengths to help them find their own balance, uncover the impact they want to have and achieve their goals. Anne is also a Pilates teacher. She believes that the body holds many answers to the questions that we ask ourselves.
www.angelcoachinginternational.com
Marjorie is a mindfulness and self-compassion coach and has also been facilitating group trainings & workshops for the last 5 years in both private & professional settings. Before that, she worked 15+ years in multinational environments as a communication consultant and understands the needs and challenges of corporate environments. Marjorie is dedicated to supporting people to move from struggling to thriving, from overwhelm & stress to joy so that they can walk through life empowered, present and full of unfolding potential.
Send us an email marjorie@experiencemindfulness.nl to stay tuned for our upcoming retreat