ACTIVE HOPE CIRCLES & REGENERATIVE EVENINGS
Welcome to a journey of deep reconnection with your inner resources and a community of change makers to empower a more wholesome and sustainable way forward in service to Life. 
  Sign up here for the Amsterdam monthly circles. 
 Sign up here for the online circle in French starting October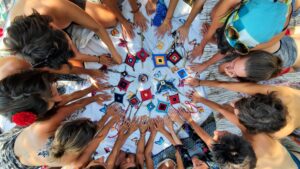 Do you sometimes feel climate anxiety or overwhelm? Do you long to be part of an Earth care community to turn towards living in a more harmonious way with all of Life? Do you feel passionate about supporting the emergence of a regenerative culture?
Active Hope is about finding, and offering, our best response when facing concerns about our world situation. This approach is inspired by the work of Joanna Macy & Chris Johnstone. You can learn more about their work and take an online training on the Active Hope website 
The Active Hope Circles are an opportunity to experience over a period of a few months deep ecology practices, based on the Work that Reconnects, as well as other sources of inspiration (including Thich Nhat Hanh & Plum Village tradition).
This gives time to integrate the practices that are helpful to you into your daily life and to deepen links with people that you share affinities with, supporting each other in your projects, to empower you as you play your part in creating a more sustainable way fourth. 
Join our circles in Amsterdam here for community support & inspiration through deep ecology practices & knowledge sharing.
You can also join our online circle (in French) here 
Practicalities: Dates, Location & Pricing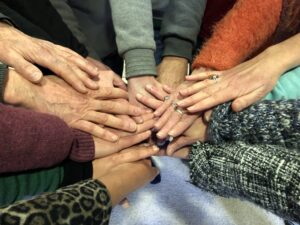 Active Hope Circles Circles in Amsterdam with monthly gatherings 
Dates: 5 October, 2 November, 14 December, 18 January, 1 February, 7 March, 18 April
Time: from 18h30 to 21h30
Location
:
Nemo
, De Groene Hemel in Westerpark
Suggested contribution: 200 euros
Registration
: Sign up
here
on Hipsy 
Email mlumet@yahoo.fr to register
For French speakers, bonjour:) Active Hope Circles online will start in October 2023, read details below and registration is
here
Autumn session from 10:00-12:00 on Tuesday mornings, dates in 2023-2024: 3/10, 17/10,31/10, 14/11, 28/11, 12/12, 9/1, 23/1
Where: online, on Zoom
Rhythm: 2 sessions (duration 2hrs) per month over 4 months (total 8 sessions)
Facilitators: Zsanna Sebesteny and Marjorie Lumet (trained by Roseaux Dansants and the Circles of Active Hope Facilitator Training)
Commitment: 1 practice in pairs and individual work between the sessions (approx 2 hours total outside of the sessions online)
Language : hybrid! (the sessions will be in French; the pair practices in the language that best suits the pair, the individual work includes texts & videos in English
Participation: Registration €100 for the full cycle (but if money is a constraint for you, feel free to let us know), optional supplementary contribution in Pay-it-Forward style at the end of the training, which will be forwarded to a collective caring directly for the healing of the Earth.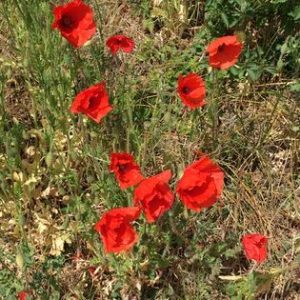 "Active Hope is not wishful thinking. Active Hope is not waiting to be rescued . . . . by some savior. Active Hope is waking up to the beauty of life on whose behalf we can act. We belong to this world. The web of life is calling us forth at this time. We've come a long way and are here to play our part. With Active Hope we realize that there are adventures in store, strengths to discover, and comrades to link arms with. Active Hope is a readiness to discover the strengths in ourselves and in others; a readiness to discover the reasons for hope and the occasions for love.
A readiness to discover the size and strength of our hearts,
our quickness of mind, our steadiness of purpose,
our own authority, our love for life,
the liveliness of our curiosity,
the unsuspected deep well of patience and diligence,
the keenness of our senses, and our capacity to lead.
None of these can be discovered in an armchair or without risk." ―