What is Active Hope?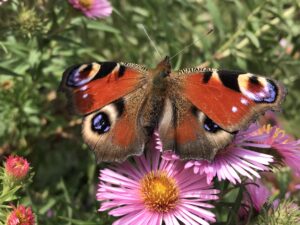 Active Hope is about feeling into and clarifying our best response when facing concerns about the world we live in. This approach nourishes our capacity to make a difference and create ripple effects of positive change in our environment.
Next Circle starts in February 2023 (details below)
Active Hope offers us tools to help us face the challenges of our world (climate change, social inequality, species extinction, etc.) as well as find and empower us to play our role in the collective transition, or Great Turning, towards a society and way of being that support the flourishing of life.
There's huge power in experiencing this work as a community and particularly in person as we are connected to a physical place where individual and collective cocreation may emerge.
My active hope is that from these gatherings we create a network of support and continue empowering one another on our respective journeys be it through projects, knowledge sharing, or whatever creative forms arise through our respective needs and dreams.
This approach is based on the work of Joanna Macy & Chris Johnstone who just released a new edition of their book "Active Hope : How to face the mess we're in with unexpected resilience and creative power"
Circle of Active Hope Amsterdam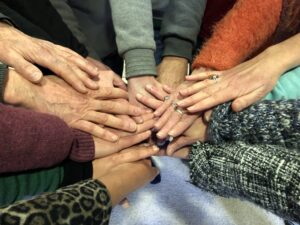 Active Hope Circles will take you on a journey to experience the Work that Reconnects over 4 months. Taking part in the adventure of Active Hope supports us to ground these deep ecology practices in daily life to nurture ourselves and our environment. Regular community gatherings enable strong connections that are precious in supporting us through these transformative times. Active Hope provides a strong foundation to empower you as you play your part in creating a more sustainable and wholesome way forward. During this journey, we will move through the spiral of the Work that Reconnects : Coming from Gratitude, Honouring our Pain, Seeing with New Eyes, Going Fourth. 
Join these bi-weekly circles to connect to like-minded souls, share your dreams and concern and join hands to empower one another as we act to heal, transform and regenerate ourselves and our communities. 
Practical Details 
8 sessions every 2/3 weeks from February to May 2023
Thursday evenings from 19h to 21h (online) and 18h30 to 21h30 live 
Dates: 9, 23 February, 9, 23 March, 6, 20 April, 11, 25 May
Location: Starting online & then alternating in person once a month (location in Amsterdam Noord close to Vliegenbos) and online once a month
Suggested contribution: Sliding Scale for 8 sessions 
1/Low income fee / student fee: 100 euros (mostly covering costs)
2/ Standard: Cover costs + income trainer: 200 euros
For who: For all those who share a deep Love for the Earth, who hold a vision of a more caring and thriving world for now and generations to come.
Welcome Nature lovers, Students, Activists, Urban farmers, Parents, Educators, Coaches, all those who desire to spread the seeds of a regenerative future within their communities.
Group max 12 people.
Registrations: Call (0627445196) or send an email to marjorielumet@ecomail.eco for more information/ to book your spot now.
"Active Hope is not wishful thinking.
Active Hope is not waiting to be rescued . . . .
by some savior.
Active Hope is waking up to the beauty of life
on whose behalf we can act.
We belong to this world.
The web of life is calling us forth at this time.
We've come a long way and are here to play our part.
With Active Hope we realize that there are adventures in store, strengths to discover, and
comrades to link arms with.
Active Hope is a readiness to discover the strengths
in ourselves and in others;
a readiness to discover the reasons for hope
and the occasions for love.
A readiness to discover the size and strength of our hearts,
our quickness of mind, our steadiness of purpose,
our own authority, our love for life,
the liveliness of our curiosity,
the unsuspected deep well of patience and diligence,
the keenness of our senses, and our capacity to lead.
None of these can be discovered in an armchair or without risk." ―