The Work that Reconnects
This work is based on the vision and teachings of Joanna Macy and supports us to develop our well-being & vitality, our inner resources and community in the face of uncertainty around social and ecological transition. The Work that Reconnects offers a rich variety of profound psychological and spiritual practices inspiring a shift in consciousness and transforming our denial or helplessness into empowered, creative and collaborative action.
Next Deep Dive Work that Reconnects Retreat : 14 & 15 October in Utrecht (English & NL)
More details & registration here 
You can experience this work through deep dive days & retreats as well as regular community meet ups with the Active Hope Circles. Find out about those here
These practices are interwoven in a dynamic Spiral structure across the following 4 stages: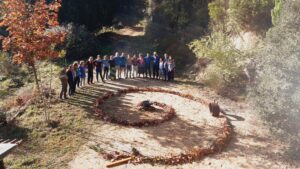 1) Coming from Gratitude,
2) Honouring Our Pain for the World,
3) Seeing with New and Ancient Eyes,
4) Going Forth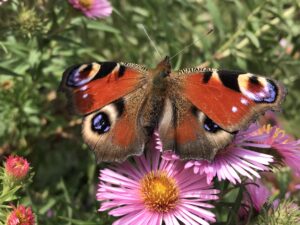 More about The Work That Reconnects 
The Work That Reconnects is a collective empowerm
ent process deeply reconnecting us to the life within us and around us allowing the emergence of individual and collective mobilisation in service of Life.
This rich body of work has been developed in the late 1970s by Joanna Macy, eco-philosopher, scholar of Buddhism and systems thinking who has woven into it 6 decades of activism in movements for peace, justice and ecology. Joanna refers to the transition from an industrial growth society (very likely leading us towards collapse …) to a life-sustaining society as "the Great Turning". This Great Turning revolves around 3 complementary and interdependent pillars:
1. Holding actions to protect life
2. Building new life-sustaining systems and practices
3. Shifting Consciousness.
The Work that Reconnects helps inspire and clarify our commitments with regard to these 3 pillars.
Having community spaces where we can resource ourselves, share how we feel and co-create to serve this Great Turning sustains our own regeneration as much as that of the planet.
The Work that Reconnects is shared through group workshops unfolding around a Spiral structure consisting in 4 stages: coming from gratitude, honouring our pain, seeing with new eyes, going fourth.
Coming from gratitude
, feeling deep appreciation and connection for the life in us and the life that surrounds us is key for our own well-being and increases our desire to protect and defend it.
Honouring our pain is definitely more uncomfortable than the gratitude but so necessary to awakening fully and understanding that the suffering of the world is also our own suffering. When we are able to hold this great loss and suffering with compassion, it is also deeply healing and empowering. We stop avoiding, numbing, denying, we break open and it is as if our fear dissipates. This is such an important step in gathering courage.
The next part of the Spiral Seeing with New Eyes is about clear seeing and becoming conscious of our wider, ecological Self, understanding how deeply interconnected and interwoven we are with all of Life. This stage nurtures connections that are neglected in the speed of modern life yet exist deep within us: with our ancestors, our lineage, future generations, all living beings. etc. As we bring focus to these connections, insights and more clarity start coming in and our sense of belonging to a greater Web of Life grows. 
The last part of the Spiral, Going Fourth invites us to clarify our personal and collective vision of acting in service of Life. Identifying actions that can be taken to contribute to the healing of our world.
The Work that Reconnects offers a rich variety of deep embodied practices, meditations, visualisations, journaling, group reflections, movement, improvisation and roleplaying as we evolve through different stages of the Spiral. This experiential work supports a significant shift in consciousness, a realisation of our deep interconnectedness and stepping into our power in service of Life.
Thousands of people around the world have participated in Joanna's workshops and trainings and her work is continuously updated and adapted in classrooms, community centers and grassroots organisations.
In the face of overwhelming social and ecological crises, this work helps people transform despair and apathy into constructive, collaborative action.