UPCOMING COURSES & EVENTS
MINDFULNESS, RETREATS & DEEP ECOLOGY CIRCLES
---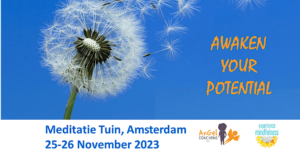 Awaken Your Potential Retreat 
25 & 26 November 2023 at de Meditatie Tuin 
Are you longing to express a fuller version of your potential? Join Anne from Angel Coaching Int. and me for this powerful 2-day unique experience to unleash your potential, spread your wings and live a life of presence, pleasure, and purpose.
Details & sign up here. 
---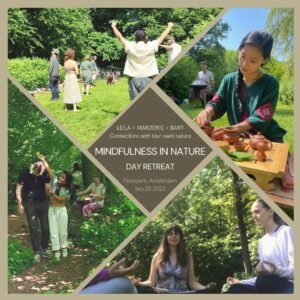 Mindfulness in Nature – Day Retreat with Tea Ceremony & Ecstatic Dance in Flevopark on 24 September  
Join us for a special day retreat to enjoy the last brighter days in nature, in mindfulness, and in community. As we move into the fall season, we'll guide you through a blissful journey of connection to yourself, others and nature through ceremony, meditation, music, forest bathing and ecstatic movement.
Details & Registration: Mindfulness in Nature -Tea Ceremony, Meditation, Forest Bath – Hipsy 
---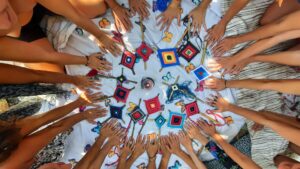 Active Hope Circles Amsterdam 2023-2024 Monthly deep ecology circles & Regenerative Evenings (English / NL).                                                All practical details (dates, intention, location and contribution can be found on this pdf document : Active Hope Invitation_2023_2024_update2607
---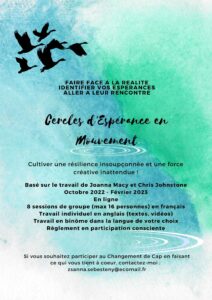 Active Hope Circle Online in French with English support materials with Zsanna Sebesteny (details and dates below)
Active Hope Autumn Circle – Online from October 2023 to January 2024 
Tuesday mornings from 10h to 12h 
Oct 3, 17 & 31, Nov 14, 28, Dec 12 , Jan 9 & 23 (ending 2024!)
Details and registration here :  DEEP : Circles of Active Hope (colibris-wiki.org) 
---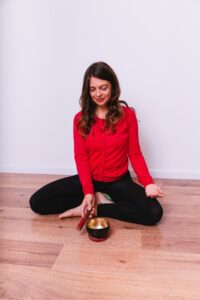 Mindfulness 8-week course October to November 2023 
Monday evenings from 18h45 to 21h15
 2, 9, 23, 30 October, 6, 13, 20, 27 November from 19h to 21h30
+ Silent Morning Practice – 11 November from 9h30 to 13h30
Price: 425 euros 
Location: De Groene Hemel located in Westerpark 
Registration: send email to mlumet@yahoo.fr
---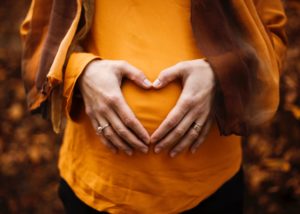 Mindful Birthing (English, French & NL spoken)
Private courses on demand, more details here
3 x 2.5 hour session = €500 (in person or on Zoom) –  
I can also arrange a private group course in your living room for 2 or more couples. Please get in touch for details. 
---
Individual Mindfulness Course (On Demand!)
You will learn the same practices and key themes than in the MBSR with personal attention & focus on individual needs.
Price: €875 for 8 sessions of 1.5 hour (dates & times to be defined together)

Many health insurances cover part or all of the cost of mindfulness courses especially if you have more than a basic package and/or a stress-related complaint. Note that I am a VMBN certified trainer (category 1 being the highest status which is recognised by all insurers). Many employers also cover the costs for these courses.
INTERESTED IN A COURSE?
Email me at mlumet@yahoo.fr to find out more about the course and what to expect. Note that for longer courses & retreats, I will always get in touch with you for an intake meeting.