Are you showing up fully, embodying who you are and what you believe in? Is your life a reflection of who you are and what is important to you?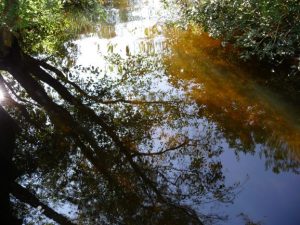 My mission as a mindfulness coach is to hold a nurturing space for you to reconnect you to the essence of your Being: your values, your calling or purpose, what gives you joy. We can explore what needs to be let gone of (unhelpful beliefs, habits and patterns) to empower you to gradually bring more enjoyment and meaning into your daily life and walk your soul path.
I offer sessions online on Zoom and also outdoors. I particularly love guiding sessions outdoors Nature is my ally or co-coach in our sessions. It's not just about being outdoors but really about using nature as a mirror. In these sessions I use mindfulness, embodiment and nature connection practices to guide you on your journey. My approach is intuitive using many techniques I've learnt over the years (mindfulness, compassion, non-violent communication, visualisations) additionally to training in coaching fundamentals and following an in-depth course around somatic coaching from the Strozzi Institute.  
Are you curious?  Contact me for a free introductory session marjorie@experiencemindfulness.nl 
Reconnect to who you really are, what is really important to you and feel empowered to gradually bring more of that into daily life.
I aspire to support people to live from the inside out and let their being guide their doing rather than moulding themselves into an environment that may not reflect who they are as a person and what they believe in.
A few client Testimonials

"The gentle handling of my own situation was the key to success. Patient listening, recalling all our conversations coupled with an innate sense of empathy. Marjorie has these qualities which make her a wonderful mindful coach. Marjorie guided me towards tapping into what gives me energy. I could then focus on this rather than worrying on anything negative without shying away from them. A wonderful journey together…thank you!." – Mike Cox

"Marjorie is a really warm and professional coach, who knows how to let you open up for the world of mindfulness. With an individual coaching, the focus is on you and your needs. I highly recommend her." – Tobias Kill Pedersen

"Marjorie's guidance provided me with a tremendous awareness of my thoughts, emotions and physical reactions. Marjorie is an insightful and genuine coach to onboard you successfully in living mindfully." – Ebru Ipek