"Every being has a sacred duty to protect the welfare of our mother earth from whom all life comes" – chief Leon Shenandoah
In The Work That Reconnects, we start our journey through the Spiral with Coming from Gratitude.
To be truly grateful, to live in appreciation firstly we need to be present and actually pause to feel the many gifts that the moment offers. Gratitude opens us to receive these gifts and allows us to remain grounded and stable in uncertainty. Gratitude is a deeply nourishing state that strengthens our capacity to rise to the many challenges we face.
In many indigenous cultures there are important rituals and practices to cultivate gratitude. Something that is sadly mostly lost in our modern industrial society relying to an extent on human chronic dissatisfaction and greed to fuel consumption and economic growth (largely detrimental to the natural world).
In the Haudenosaunee Native American culture, gratitude is at the essence of their way of life. Before every meeting or gathering, the Haudenosaunee give thanks to everything that surrounds and sustains their wellbeing. Animals, trees, plant life, medicinal herbs, water, etc. are all considered as part of their extended family and referred to as Mother Earth, brother Sun, Grandmother moon. Every day is thanksgiving and words of thanks are "the words that come before all else."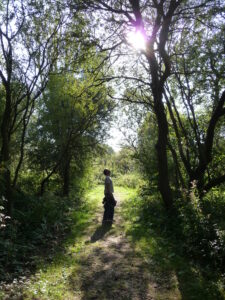 Here is a version of this Thanksgiving address published by the Mohawks
"The People
Today we have gathered and we see that the cycles of life continue. We have been given the duty to live in balance and harmony with each other and all living things. So now, we bring our minds together as one as we give greetings and thanks to each other as People. Now our minds are One.
The Earth Mother
We are thankful to our Mother, the Earth, for she gives us all that we need for life. She supports our feet as we walk upon her. It gives us joy that she continues to care for us as she has from the beginning of time. To our Mother, we send greetings and thanks, Now our minds are one. "
In the Autumn of 1977, The Haudenosaunee travelled to a UN conference to share both a prophecy and warning referred to as "Basic Call to Consciousness". In this address the following paragraph was contained : "The original instructions direct that we who walk about on Earth are to express a great respect, an affection and a gratitude towards all the spirits which create and support Life. We give a greeting and thanksgiving to the many supporters of our own lives : the corn, beans ,squash, the wind, the sun. When people cease to respect and express gratitude for these many things, then all life will be destroyed and human life on this planet will come to an end." …
– text adapted from Active Hope by Joanna Macy & Chris Johnstone