The Great Turning is the name for the essential adventure of our time : moving away from an Industrial Growth Society that is incompatible with life on this planet to a Life-sustaining Society. This shift is happening and gaining momentum through the actions of countless individuals and groups around the world.
We invite you to join us and celebrate this turning towards Life together at this special moment of the year. During the Summer Solstice, Life is at its peak and nature is abundant. Our own projects may be showing signs of blossoming or perhaps our motivation to create, serve and take action is rising substantially.
During this evening we'll hold a nurturing space in which you can explore where you are called to in this Great Turning, honouring your unique longings & gifts and deepening your contributions. This vibrant time of year invites us to rise fully into who we are, who we are becoming and what wants to be born through us.
Our intention during this evening is to offer a space for support, celebration & inspiration as well as community sharing to nourish and empower us as we move forth into the Great Turning.
We (Marjorie and Suzanne) have connected through this beautiful course we are both following at the moment "The Great Turning Experiment" from the Findhorn community. The Great Turning Experiment. All the precious learnings and community received there have energised and inspired us to host this evening together, share our own journey and insights from the course.
Marjorie draws her inspiration mainly from the work of Joanna Macy (The Work that Reconnects) and Suzanne from the teachings of Michaël Derkse (pioneer and expert in transformation, founder of Pulsar Visie). We'll be weaving some foundational practices from these sources into our evening together whilst bringing our own unique flavour to these.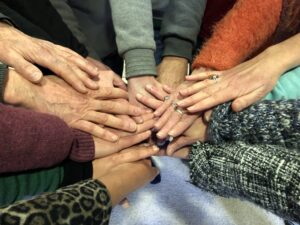 You can expect an empowering and inspiring evening with:
• Deeper insight into your own journey and contributions to The Great Turning
• Celebrating the Summer Solstice and abundance of life and light
• Space to explore as a community our grief and concern for the world. Moving through these feelings opens up the door to deep connection and creativity.
• Connection & community as you navigate through this Great Turning.
"The most remarkable feature of this historical moment on Earth is not that we are on the way to destroying our world – we've actually been on that way for quite a while. It is that we are beginning to wake up, as from a millenia-long sleep, to a whole new relationship to our world, to ourselves and each other. This awakening makes the Great Turning possible." – Joanna Macy, Coming Back to Life
Practical Details
Registrations : send an email to marjorie@experiencemindfulness.nl
Date: 20 June 2022
Time: 17h30 – 22h (including a potluck dinner, everyone brings something)
Location: Embodied Empowerment, Christoffel Plantijngracht 6,
1065 DA Amsterdam Nieuw-West
In the spirit of conscious contribution, as well as openness through hopefully accommodating diverse social groups, we are offering this evening on a sliding scale.
• €90 support fee (enabling us to offer student/low income fee)
• €60 standard fee
• €30 student / low income fee,-.