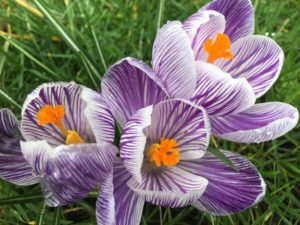 Spring is in the Air! A week back we had the Spring Equinox. With the Corona pandemic continuing to spread physically and also invading our psyche you may not be feeling particularly cheerful, light and in sync with Spring season.  
That said, it is a blessing that this situation is happening in this season for those of us in the Northern hemisphere. We can use the energy of Spring to support our own energy. To begin with we can take in some sunshine, vitamin D raises our serotonin production, boosting our mood and energy, which we can use right now more than ever.
And we get to witness nature awakening in all its glory. In the past few days, it is incredible to observe how nature everywhere is blossoming. Yes certainly it is Spring you may say but it is much more than just that. Nature has been having a pause from human activity and if we go outdoors or even just hear the glimpses of good news for the planet here and there, we can begin to see how beneficial that is. It seems like mother Nature is trying to give us a message.
Everything is so much calmer. If I look at my small little corner of the world in Amsterdam, there are barely any cars on the Overtoom or noisy scooters, minimal trams, no planes flying above our heads. How amazingly restful is that? There is less noise, less busyness, we can breathe in the streets instead of smelling car fumes. This makes it easier to see and feel, to connect with our senses. And connecting with the senses is exactly what is needed right now to get out of our heads and into our bodies. In my closeby Vondelpark, nature is blooming, flowers and buds are popping up everywhere, the smell of flowers is pungent, there are more birds than I have ever seen in the past. I've noticed a couple of species of birds I had never seen before and their song seems louder than ever. Nature is shining bright and being nourished by this break in human activity.  The air quality in Amsterdam and in many places on the planet has improved. The water quality is improving, look at the canals in Venice, the return of the fish and even some dolphins! Who knows, what may happen to the Amsterdam canals. The Earth can finally breathe, rejuvenate, have a restorative, regenerative break and reclaim its space. Can we do the same? We are having a break, like it or not, so we might as well make the most of it where we can. Take a deep breath and slow down, we may use this time to recharge our batteries after perhaps a lot of unnecessary busyness and to explore what brings us balance and joy day by day in these trying times.
Maybe we can learn to fully appreciate the beauty of nature around us and understand the importance of taking care of it. It seems like our planet is trying to give us a message. I know this may feel far-fetched for some but I believe our planet is a conscious self-sustaining organism. I like to refer to her as Mother Earth because she is really. She is our home, a massive womb providing its many children with everything they need to flourish. Children who sometimes take, take, take and always want more. Who forget to give back and be thankful. "Our house is on fire" says Greta. Yes Mother Earth is putting her foot down and asking us to wake up. To stop rushing head down in excessive doing, the excessive greed and consumerism, the competitiveness, more speed, more efficiency, faster, harder, etc. the need for always more, heightened experiences, more entertainment, the relentless striving for the next thing, etc.
We need to explore different ways of living for our own survival. We've known that for a while now but now we have a window of opportunity to reflect. The Earth is showing us what is needs! It needs us to slow down and do things differently. Can we hear that message or are we too focused on our own suffering?
We need to slow down for our well-being, our relentless striving and craving for more is only causing suffering. True contentment isn't linked to our external circumstances but can only be found within and in the present moment. Life isn't better in the future, right now is the only moment we have to live! Our very challenge is to find happiness right here in the moment, in the midst of adversity.
"Our psychological well-being may depend on being able to find some place in nature where we can go and just hear the sounds of the world, without the sounds of human activity, of airplanes, cars and machines" – Jon Kabat-Zinn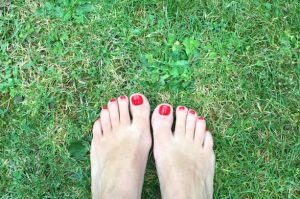 The time has come to nurture our planet. To nurture ourselves and each other. To find a way to live in harmony with one another and our Mother Earth. Peace begins within. If we can be at peace with ourselves, we can create a peaceful environment around us, harmonious relationships. And begin to respect all life, everyone and everything around us is sacred. We are all interconnected, living miracles.
Nature has its own intelligence and so do we. We need to pause to listen. When this external world quiets we can not only hear nature but we can hear ourselves. We're caught up in systems and structures that are not in sync with the natural world but with these on pause there is an incredible, exciting opportunity to listen within. To create our own rhythm, our own environment, to get in touch with what it is that we really need, what actually really matters.  We can get in touch with our own deep intelligence and inner knowing. For our well-being, we can intuitively feel we need to be aligned with nature. When our natural rhythms are not in sync with nature we experience stress and disease. 
We have never been separate from the Natural world. We are nature. We are one interconnected whole. If we are hurting our planet, directly or indirectly, we are of course hurting ourselves. Unfortunately, most of us are unwillingly hurting our planet because the choices we are given as consumers are a large majority of non-sustainable products. Having 30 brands of shampoo, shower gel and sugary fizzy drinks to choose from for instance is largely unnecessary. How there can even be a luxury industry when so much of the world is living in poverty is insane in the first place.
Our whole value system is flawed. We privilege profit, material possessions and excessive doing over being, people and planet. If we do not bring being and doing in harmony, as well as make profit in ways that actually benefit the people and planet, we are doomed as a species. If how we spend our time is about making money in a system that doesn't contribute to our well-being or our environment then we are probably doing more harm than good willingly or not. We may be well-intentioned but misaligned. Instead of starting a new project or initiative because there is an opportunity to make money we should ask how can I serve? A lot of the multi-million dollar industries out there are simply useless and don't add any value in terms of human or planetary well-being, in fact just the opposite.
Enough ranting, but you get it… We are being called collectively to evolve. It begins with us. From inside out. What choices will we make today for ourselves and others? How can we be a center of peace, sanity and well-being right now? When we are at peace, we can begin to place our energy in serving others with the gift of who we are and our unique skills. When we are suffering and self-absorbed a lot of inner work is needed, our task is first healing our own mind and body before we can contribute in a meaningful way.
And let's not underestimate the importance of being connected to Nature for our own healing. We can find solace in Nature. Can we let ourselves be inhabited with Spring energy? If you are blessed with the freedom to go outdoors, take time for plenty of mindful walks in nature and savour it with all your senses. This will help calm and ground you in these uncertain times.
Spring represents a new beginning, the return of the light, a fertility reset. "New beginnings are often disguised as painful endings." (Lao-Tzu). Spring is a good time to reflect and reset which is what we are being called to do right now in the current circumstances. As you watch everything grow, also notice what arises in you moment by moment. See if you can  let your experience be your teacher.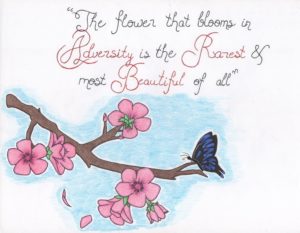 Spring is also a time of expansion, of getting out of your comfort zone and into creativity. What wants to grow in you and what can be let gone of so you can move towards expansion rather than be contracted in fear or worry. Changing  our habits and routines dramatically as has been the case in the past weeks, brings with it a lot of opportunity to do things differently. To let the new in whether it be starting a new project, hobby or decluttering your home. So get in sync with Spring and let your heart sing even in the midst of intensity! (and singing, releasing your jaw and making your voice heard, is certainly deeply healing too right now!).