THE POWER OF POSITIVE THINKING – MINDFULNESS OF THOUGHTS & POSITIVE AFFIRMATIONS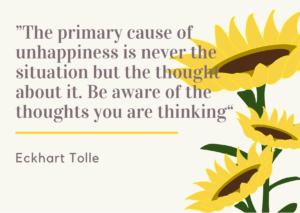 Is your glass half-empty or half-full? How you answer this question reflects your outlook on life and ultimately how happy and healthy you are. Our thought patterns dictate the way we perceive and explain reality, including our relationship to ourselves and to the world. Yet when we look at these thoughts more closely, they are often inaccurate or only partially true.
The good news is there is nothing fixed about our brain and the way we look at things. We always choose our attitude to whatever life throws our way, the more awareness we have, the more this ability for conscious choice is activated. We really can reprogram our brains to an extent. Through mindfulness, cultivating non-judging and non-reactive awareness of thoughts, as well as working with affirmations we can significantly shift our mindset in a matter of weeks. Cultivating gratitude is itself a powerful way to see the glass half full so if you don't have a gratitude practice check out last week's post on gratitude.
Challenge of the week : Work with positive affirmations either by tuning in to my affirmation practice daily and/or creating your own affirmations. Write down 1 to 3 affirmations that really resonate for you and repeat them daily as often as you like and try to remember to use these also in stressful moments after some practice. And of course share your favourite affirmation or words that empower you mentioning @experiencemindfulness and #moodboostingchallenge. Chances are someone else in your network really needs to hear them too and sharing them reaffirms them for you causing a ripple effect. Last but not least I may surprise you with a freebie 😊
More food for positive thoughts :
Working with Difficulties : Our mind doesn't really make the difference between reality and imagination that is why our stress response gets activated not only by real physical threats but also by the imaginary tigers of our mind. The beauty is we can flip this around by imagining the best possible outcome and using positive affirmations as a counterbalance to our inner critic. Have a challenge coming your way? visualise the most positive outcome you can imagine, play it in your mind, connect with your senses – how does it feel? What do you see, hear, smell, notice? You can even play some music and dance to your success if that doesn't feel too "up there" for you.
Negative thinking is toxic literally. Your every thought produces a biochemical reaction in the brain.

The brain then releases chemical signals that are transmitted to the body, where they act as the messengers of the thought. The thoughts that produce the chemicals in the brain allow your body to feel exactly the way you were just thinking.

So every thought produces a chemical that is matched by a feeling in your body.
Practice mindfulness of thoughts : We cannot control what arises to mind but by watching our thoughts we gradually become freed from their tyranny, gain perspective, space and have access to other ways of thinking about situations. Each time we recognize a thought as a thought when it arises and register its content, then let go of it and come back to our breathing and a sense of our body, we are strengthening mindfulness. We do not need to fight with thoughts, struggle against them or judge them. Rather, we can simply choose not to follow the thoughts when we are aware that they have arisen. "From thoughts come actions. From actions come all sorts of consequences. In which thoughts will we invest? Our great task it to see them clearly, so that we can choose which ones to act on and which ones simply to let be." – Joseph Goldstein
Reframing negative thoughts : If you have a persistent, repetitive negative though you can write it down and rephrase it into a positive affirmation. And use that affirmation every time the negative though pops up again. Over time, we can begin cultivating new, more constructive thought patterns, new ways of seeing ourselves and the world around us.
Book Recommendation : The Power of Now by Eckhart Tolle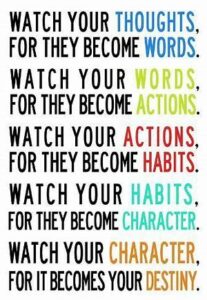 "Start listening to the voice in your head. The voice comments, complains, likes, dislikes and so in. It isn't necessarily relevant to the situation you find yourself in at the time; it may be reviving the recent or distant past or rehearsing or imagining possible future situations. Here it often imagines things going wrong and negative outcomes, this is called worry. Sometimes the soundtrack is accompanied by visual images or "mental movies". Even if the voice is relevant to the situation at hand, it will interpret it in terms of the past. This is because the voice belongs to your conditioned mind, which is the result of all your past history as well as of the collective cultural mind-set you inherited. So you see and judge the present through the eyes of the past and get a totally distorted view of it. It is not uncommon for the voice to be a person's own worst enemy. Many people live with a tormentor in their head that continuously attacks and punishes them and drains them of vital energy. It is the cause of untold misery and unhappiness as well as disease. The good news is that you can 'free' yourself from your mind by listening to the voice in your head as often as you can. Pay particular attention to any repetitive though patterns, those old gramophone records that have been playing in your head perhaps for many years… watch the thinker, be there as the impartial witnessing presence. You will soon realise: there is the voice and here I am listening to it, watching it. This 'I am' realization, this sense of your own presence is not a thought. It arises beyond the mind. A new dimension of consciousness has come in. The thought then loses its power over you and eventually subsides because you are no longer energizing the mind through identification with it. This is the beginning of the end of involuntary and compulsive thinking. When a thought subsides, you experience a discontinuity in the mental stream – a gap of "no-mind". At first the gaps will be short, a few seconds perhaps, but gradually they will become longer. When these gaps occur you feel a certain stillness and peace inside you. With practice, the sense of stillness and peace will deepen. There is no end to its depth. You will also feel a subtle emanation of joy arising deep from within: the joy of Being." – Eckhart Tolle
How will this boost my mood?
Positive thinking is an ultimate mood booster. Essentially, when you think happy, inspiring, or positive thoughts, your brain manufactures chemicals that make you feel joyful, inspired, or uplifted. Positive affirmations can be used to boost self-esteem, encourage positive transformation or motivation. To be effective affirmations require regular practice for lasting long-term changes.  Research has linked affirmations to lower stress and rumination as well as to academic achievement. Positive thinking helps make us more resilient to difficulties when they arise.