RADICAL SELF-CARE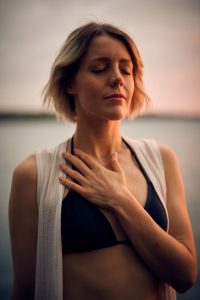 It is been 2 weeks of working from home and home-schooling and I have to say I am starting to become somewhat adjusted to, even comfortable in this new normal. I know I am not alone in this as many around me have expressed the same, sometimes we need more time, it is a process! The capacity for human adaptability never ceases to amaze me, this just goes to prove how we are capable of so much more than we bring ourselves to believe we are sometimes.
Also collectively, it is amazing how we can all press on the pause button in the face of a global health threat, albeit an invisible one. Why we haven't been able to do this yet in the face of climate change, an immensely bigger threat, also keeps me busy. I suppose it is because this disruption is less immediate, more gradual and our systems are reactive and better equipped to deal with short-term threats.
Anyway, narrowing the lens and transitioning from the macro to the micro, coming back to little me. The first week of this situation was a major adjustment for me, as for most of us. I didn't dwell in fear and went straight into acceptance as there clearly wasn't any other option that would serve me well. I didn't really think over things much and activated doing mode to take the necessary actions to adjust to these changes.
I digitalised my mindfulness and mindful birthing courses despite having major resistance with switching to online, there just wasn't any alternative.
I was brutally aware that this situation of uncertainty, this threat to our health and life as we know it would bring about a lot of suffering. Plenty of fear, anxiety and worry around falling ill or losing loved ones, isolation and loneliness, depression, financial insecurity, etc. I immediately felt the urge to help. I thought "How can I be of service?" "What is this situation asking for me", "What do I feel called to do?". I felt ignited with purpose.
I also felt somehow immediately excited about the opportunities that come with such a shift. This situation is like a forced retreat, we are cut off from external distractions, invited to pause, reflect, slow down, do and appreciate things differently. This space to reflect has the potential to bring us in touch with what really matters, to connect to ourselves, our loved ones, our families, to heal ourselves and our relationships. To rethink how we live. To live in the moment, to recognize the sacredness of each moment, because more than ever we don't know what the future will bring (we actually never did know but now we are reminded of this!). There is an opportunity for us to awaken, to live from our hearts, because that is where peace resides. To come into being. The practice of mindfulness and self-compassion are powerful tools to do just that.
I started weekly mindfulness and self-compassion meditations to support others to stay grounded, loving, peaceful and in the moment in these times. These sessions are donation-based, every Thursday evening. You can join us by registering on Facebook or send me an email.
As a mother, mindful birthing teacher and doula, I also feel passionate about supporting expecting and new parents. Being pregnant, giving birth and becoming a parent can be scary at the best of times but is particularly challenging right now. I have set up weekly meetups with a group of mothers & doulas to support expecting and new parents in this vulnerable phase. Please join us or pass this on to new families.
Finally, I've been really busy taking care of my kids, creating a home-schooling schedule, supporting them in their work, but also making sure to balance that with having fun, playing, connecting and safeguarding their well-being.
We are thankfully blessed with health and all doing well. But it has not been easy repurposing the work I do to online AND offering extra support sessions to support my community's well-being (which means working more than I usually do) AND juggling this with home-schooling and motherhood. I am sure any parent, working or not, suddenly finding themselves in a position of home-schooling can concur. My partner is a lawyer and has continued with his hectic work schedule at home so he's been on conference calls incessantly and the care of the children has fallen mostly under my responsibility.
The first week of this situation I was in survival mode, busy with everyone but myself. At the end of the week I was useless and completely wired adjusting to these big changes. I had a good cry on the Sunday, to release all the tension and adrenaline in my body caused by the stress of the situation and all these new responsibilities I had taken on. After that, all I could do was sleep for the rest of the day.   
I realised if I was to stay sane, healthy and in a place where I could meaningfully support my family and others, I'd better take care of myself more seriously. Of course, I am aware that taking care of myself is important as I am in care roles, as a mother and mindfulness coach so I do make space every day for the practice of mindfulness in some form or another. However, I realised that what I am already doing wasn't going to be enough to carry me through these times. I needed self-care more than ever if I am going to be a center of peace and sanity:  RADICAL SELF-CARE.
So I asked myself what does radical self-care look like? This last week has been the process of exploring what that means for me and what that looks like and here is how far I've come.
–          Negotiating with my partner to have 2×1 hours slots to myself in the day, one in the morning and one after lunch. And he often takes over from 19h to put the kids in bed as I have mostly evening courses.
 –          Starting each morning with a walk in my nearby Vondelpark, coming back for a long sitting meditation, sometimes followed by journaling if time allows.
 –          During the day, taking time for breaks and nourishing activities with and without the kids – regularly checking in with myself "how am I feeling, what is it I need right now?".
–          I've been dancing and singing more throughout the day, with and without my girls
 –          Taking time to cook nourishing food, also with boosting the immune system top of mind
 –          Stretching and doing yoga throughout the day with my girls often joining in
 –          Going out to play for a couple of hours with the girls every day
 –          Having max a couple of hours where I am really available for / working with the kids and the rest of the time encouraging them to work independently
 –          Family quiet time after lunch where we spend 30 minutes to an hour reading
 –          Doing something relaxing and/or creative every day with the girls, I took my painting material out again after years of being in the boxes
 –          Not checking in with the news unless there's something I feel I need to know or understand, asking my partner who is a serial news watcher if I missed anything of importance.
 –          Ending the day with some reading or listening to something inspiring, practicing a body scan meditation, sometimes self-massage, lighting candles, soft music, bath, gratitude practice.
 –          Going to bed no later than 22h and making sure that I switch off my devices by 20h
I've been practicing what I preach more than ever and I am starting to feel wonderfully peaceful. I have less time to myself and somehow, I feel like I have more space. How bizarre? I've been even more connected to my body and how I am feeling than usual and connecting more to my children. Not having external pressures and all sorts of social and kid's activities is very relaxing I find. Of course, I miss giving courses in person and human contact. But I must say I am feeling more peaceful than I have in a while and I can give this gift to my children and others.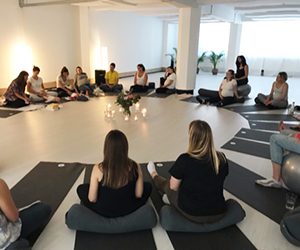 FINDING MY TRIBE
My partner is an introvert and talking about emotions, feelings isn't his cup of tea. Reflecting around both the challenges and opportunities that this time brings on an individual and collective level which I find fascinating, really isn't his thing either. His idea of winding down after a busy work day is watching news and TV shows and action or thriller movies, as well as thankfully the occasional comedy show. The saying that men and women are from different planets really resonates in my home. I know I am not alone in this. But I did feel a bit lonely being at home and not having anyone I could connect meaningfully with when I really needed to more than usual. So there is probably some work to do around my relationship and this situation is forcing me and many of us to be confronted with that fact. I see  that as a much needed opportunity. In need of immediate support,  the other question was "How can I build meaningful connection in these times?", "Who can carry me so that I can care for my family and hold space for others?"
So I started looking for support, looking for my tribe in this new online reality. I found support in so many places, many of which were unexpected. Firstly, the courses I host create a collective learning community so definitely the deep sharing there has been precious. I've attended a women circle which was a healing experience and intend to continue looking for this sacred feminine connection. I have been doing online dance and yoga sessions. My doula community has been a huge source of nourishment and meaningful exchanges. I've also been strengthening the bonds with my community of mindfulness trainers.  I've had chats with the neighbours and many friends far and near. Lots of Whatsapp exchanges and hilarious videos shared. With one group of friends we've been sending one another our funny dance videos.  I've been connected to my family more than in the past and I've initiated weekly zoom reunions (my parents are divorced so this frequency of 'seeing' one another is completely new for them).
I've been receiving tons of inspiration to stay healthy physically and mentally in these times as I am sure you all have. Wisdom and support is exploding from everywhere. And actually it is a bit overwhelming just how much inspiration is out there. Staying on top of it all can be stressful in itself. Too much input even wise is just too much. So even if there are tons of resources that I want to tune in to now, I have decided to tune in to something no more than 30 minutes a day and to do my best to choose wisely amongst this wellness offering overload. On the weekend if there is space and will I allow for more time for this.  
I really value just being with myself and with my family. I realise that there is as much depth within me than there is breadth out there. It does feel good to hear things that resonate with my own experience or the occasional new insight, new way of looking at a situation. So this tuning in supports me in my own process but it is a fine line between support and overwhelm.   
So these are some of my reflections from 2 weeks of this 'social distancing' or 'pausing and staying within' situation. Ready for week 3!
I'd love to hear what radical self-care and finding your tribe looks like for you so please send me a message or join our sessions.
Wishing you health and strength 🙂