Here's a special blog post I put together for Lorna from Wilson's Workouts about reducing stress during the festive season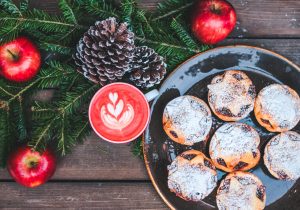 Is the end of year stress getting to you? Well you are certainly not alone.
On one hand, December is a very busy time of year with all the festivities and family reunions involving plenty of preparation, extra planning and shopping in what is for many of us an already pretty busy schedule.
On the other, the lower amount of natural sunlight can significantly impact our mood, sleep and energy levels. Many of us can find ourselves experiencing winter blues, feeling more lethargic and down overall.
This combination can leave us feeling run down and stressed. The good news is that there is a lot we can do to nurture ourselves and preserve our well-being in the midst of Winter.
Firstly, some acceptance of the reality that our environment affects us profoundly and we don't have quite the same energy in winter than we may do the rest of the year is key. Winter is a season to slow down so getting more rest and adjusting your schedule to your energy level where possible may be wise and leave you feeling healthier and happier. Not overdoing it, letting go of whatever isn't crucial or serving our well-being can help in any time of year but especially now, giving yourself the gift of imperfection ?
Starting your day without rushing or checking your phone but instead taking time for some gentle stretching and/or a few minutes of mindful breathing can support you to start the day with clarity and vitality
To preserve your energy and clarity throughout the day, try to insert restorative breaks every now and then whether it be breathing, stretching, walking. Make sure you plan these in as it so easy to get caught up in being busy, neglect our basic needs and go over our boundaries.  
Going for a brisk or mindful walk (ideally in nature) is guaranteed to recharge your batteries and combat the winter blues by maximizing your natural light intake. Spending time outdoors and walking increases serotonin production, reduces anxiety and supports better sleep.
Whenever you feel you are getting wound up or overthinking, this 3-step breathing space practice is only 3 minutes and it is a powerful way to give yourself a vitality boost and step away from stress. 
When our mood is low and we experience stress, we have a tendency to engage more easily in negative thinking and self-criticism, often variations of feeling insecure or inadequate in some way. While this is pretty common it certainly isn't helpful and actually makes it harder for us to deal with what is stressing us in the first place. Countering this natural tendency with some self-compassion can work wonders. When you notice you are stressed, pause, acknowledge how you feel and ask yourself "how can I be kind to myself in this situation?". It is not easy at first and requires a conscious commitment but if you can practice this for a few weeks you could actually transform stressful situations into a self-care moment and in doing so boost your performance, confidence and resilience.
Finally closing the day with a gratitude practice can reframe your thinking, give you a mood boost and facilitate a peaceful, restorative sleep. Most of us have a natural tendency to focus more on what doesn't go right and focusing on that actually makes it grow so doing the opposite can bring radical transformation. Just writing down 5 things you feel grateful for every night and leaving space for feelings of gratitude to emerge is one of the healthiest habits for well-being. You're actually inviting more of what you feel grateful for in your life to emerge! 
And as this is a celebratory time, you may want to take some time to also celebrate yourself. It is easy to get caught up in all the things we don't do right or haven't yet achieved but how about shifting that and taking time to acknowledge all the little things that have gone right and in particular what you feel proud of or have achieved, no matter how small. In this end of year also taking time to reflect on all this has its own significance as we transition into a bright new year. Celebrating actually rewires our brain.
All the warmest wishes for this festive season, may it be mindful, peaceful, bright and restorative!