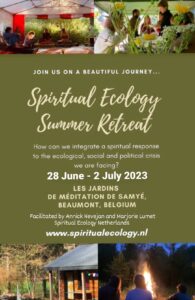 Inner Work for Outer Change…
How can we integrate a spiritual response to the ecological, social and political crises we are facing? At this time of great uncertainty in the world – in which we are seeing the impacts of climate emergency and war – we need to find the strength to put compassion into action.
We welcome you to join us on this 5-day learning journey on the land of a Buddhist retreat centre, just 30-minute south of Charleroi in Belgium, to explore what compassion means in relationship to yourself, to others and to the natural world.
Together we will learn and deepen practices of mindfulness and compassion, as the necessary inner work which can build our capacity to make a positive difference in today's world. 
Book your spot: Register for Spiritual Ecology Retreat 2023: Changing the World from the Inside Out (google.com)
We will explore how to manage strong emotions, how to engage with wisdom and how to stay connected to joy in challenging times. We will bring this inner work together with our outer environment, deepening our connection with Mother Earth, with each other, and also sensing into what wants to emerge in the larger system.
Building Community Together… 
We believe it takes a community to practice well: to learn together and grow our 'muscles' of compassion, resilience and warriorship. We have been offering regular Spiritual Ecology events and gatherings for many years. This is the third year we run this retreat at this inspiring location. You are welcome to join us again if you came previously, or come for the first time – we will be offering many new, different practices to build and deepen knowledge and practice.
Our Inspirations… 
The retreat draws on many different inspirations and resources, including:
The Heart is Noble: Changing the World from the Inside Out and Interconnected: Embracing Life in Our Global Society by His Holiness Karmapa.
Active Hope: How to Face this Mess We're In Without Going Crazy by Joanna Macy and Chris Johnstone
Zen and the Art of Saving the Planet by Zen Master Thich Nhat Hanh.
This retreat is organised by Spiritual Ecology Netherlands and is supported by St. Ethelburgas. Below you can find further information about the program, the practical details and the retreat facilitators. You can also find this retreat as an event on Facebook – please mark yourself as going or interested, and share to help us spread the word.
The Program including Guest Speakers… 
Consists of daily movement and meditative practices & explorations, talks/input by the trainers, mindful dialogue, and sharing sessions in smaller circles to deepen our learning. There is also space for solo and social time. We will practice with periods of silence to listen in a different way to what wants to unfold in you and us as a system together.
We are excited that this year we will be inviting some special guests to join us to give talks – details on this TBC closer to the date, so watch this space!
Practical Details…
We will start on Wednesday June 28th at 12:00pm and will finish after lunch on Sunday July 2nd.
We're offering this retreat on a sliding scale:
€550 support fee (enabling us to offer student/low income fee)
€400 standard fee
€250 student / low income fee,-.
All of the above prices does include 21% VAT, but it does NOT

 include the cost of lodging (accommodation and meals), which will need to be booked separately – as outlined below.

There are a few sponsored bursary spaces available – kindly indicate below if you would like to apply for a spot. 
To join us, please register via the registration form ASAP. Book by 15th April for 10% early bird discount taken off retreat the fee.
We warmly welcome people from all backgrounds, identities and genders.. We'll do an intake beforehand by telephone or Zoom to get to know one another if you are new. If you have any questions, get in touch with Annick anevejan@xs4all.nl and Marjorie mlumet@yahoo.fr.
Kindly book and pay for your accommodation (4 days in total, additional night optional) separately with Samye Ling retreat centre directly here. Samyé Ling Beaumont, Belgium. Email : info@kagyusamyeling.bewww.kagyusamyeling.
Own tent (4 nights), including 3 meals per day: €120,- (extra night(s) €30 per night)
Equipped tent (4 nights), including 3 meals per day: €140,- (extra night(s) €35 per night)
Dormitory (4 nights), including 3 meals per day: €140,- (extra night(s) €35 per night)
Ecolodge individual room – limited spots (4 nights), including 3 meals per day: €180,- (extra night(s) €45 per night)
About the trainers
Annick Nevejan is an integral trainer & counselor, and senior tutor for the Mindfulness Association UK and Europe (MSc). Her passion for the last 25 years has been exploring and facilitating personal and collective transformation processes, both in A'dam with her own company and abroad. Her work is based on an integration of Buddhist and Western psychology, neuroscience and the Theory of Living Human Systems. She is certified in Systems-Centered® Training and has a Master's degree with DasArts (AHK) as a community-based artist.  Find out more about her work and background on www.nevejan.net.
Marjorie Lumet is a mindfulness teacher, community builder and passionate facilitator of the Work that Reconnects. For the last 10 years she's been sharing the practice of mindfulness & self-compassion with a wide audience ranging from individuals to groups, in both private and business settings as well as through tailored programs to support parents (to be) in nurturing the next generation. As a mother & nature lover feeling increasing concern around ecological breakdown, she further trained in deep ecology work in 2021 and now offers retreats of the Work that Reconnects as well as Active Hope Circles in Amsterdam to build community and support change-makers and activists. Find out more about her work and background on https://www.experiencemindfulness.nl