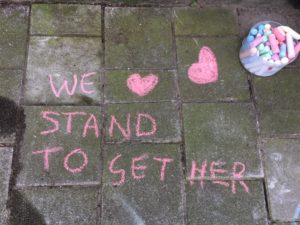 Monthly Community Practice
Join our monthly community practice to stay grounded and take-care of your well-being. Every month we'll explore a new theme. We'll start with a short, guided meditation, and plenty of time to share, reflect and deepen together through all sorts of insightful practices. Register here. 
Following an 8-week mindfulness course if the best way I know to build a solid foundation in mindfulness and really beginning to integrate and embody this way of Being in your Life. To keep this fire of gentle awareness alive and well it is important to have a personal practice as well as a supportive community. For this reason, I feel passionate about continuing to support mindfulness, community and deep connection beyond the 8-week course.
I am excited to collaborate with The Labour Department. a community center for parents & parents to be.  Please be welcome whether you are a parent, a parent in the making or busy becoming a good "parent" to yourself. Wherever we are, we all need a space that nourishes us so we can give back. 
Mindfulness is one of the most powerful practices to relate to ourselves, our partners & children and the world at large with more kindness and presence. And sharing in community is so precious to feel supported as we learn and grow through the roller coaster of Life (and for some whilst nurturing the next generation)!