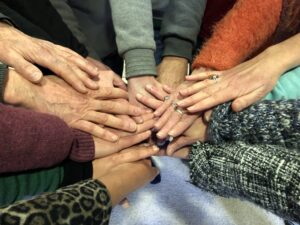 The Mindful Circle is intended to be a safe and nourishing space where we can heal, ground, recharge, unfold, explore and grow together.
In this space you will be invited to connect deeply to yourself, to others and to Nature with the intention to support your well-being and rooted presence as you journey through Life. Please sign up here to join the next circle. 
In our time together, I will guide you through a variety of mindfulness, self-compassion and deep ecology practices in community. You can expect a variety of meditative practices, embodiment and movement practices, mindful communication practices as well as nature connection practices when we are able to go outdoors.
There will also be plenty of space for sharing in small groups and in circle. When we practice in a group, share in authenticity our challenges and insights and reflect as a community, we learn from one another and grow together in wisdom. Being in a safe community where we can show up authentically is healing in itself.
Every session will also include awareness and occasionally practices to honour the time of year and the wisdom of the seasons.
These circles will be online on Zoom and occasionally our session will be outdoors (when weather is warm and bright enough)
The Mindful Circle takes place every 2 weeks in average on Tuesday evenings on following dates: 18 April, 25 April, 9 May, 19 May, 30 May, 13 June, 19 June, 4 July, 11 July, 18 July
Note that July sessions will take place in Amstel Park (we meet at de Meditatie Tuin)
I look forward to seeing you there. Register here to join.