Living in harmony with the Seasons is central to our well-being and the well-being of our environment.
For this reason, I offer & co-create seasonal embodiment gatherings around the beginning of each season to honour its wisdom & support our own journey through life & its rhythms.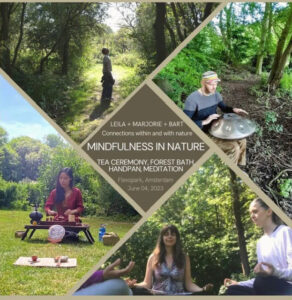 Mindfulness in nature, Tea Ceremony & Handpan Sound Journey – 4th June from 14h to 17h, Flevopark
Come slow down and savour the present moment with us in this special afternoon. Sign up here. 
We will share a tea ceremony, handpan sound journey, mindfulness meditation and nature connection practices/ forest bathing in a beautiful, quiet area in Flevopark. Followed by an optional picnic to feel and further explore the joy and connection in nature.
For this mindful Tea Ceremony ('Cha Dao' 茶道, the way of nature through tea), Leila from LeilaArts will present specially selected tea (Mao Jian Green Tea) with the beginning of Summer season, and guide you through a tea meditation that cultivates mindful process and fluid flow in a harmonious atmosphere with nature that brings us together and improves our taste bud and senses, health and soul. Tasty, fresh and healthy sweets will also be shared to pair with the tea to enhance the senses.
Marjorie from Experience Mindfulness will guide you through grounding and centering practices, a mindful walk/forest bath and nature connection practices to connect deeply with yourself and nature. These practices will support your well-being, clarity of mind and rooted presence as you journey through Life. Simply being in a contemplative state in nature is very restorative, calms the nervous system and busy mind bringing a profound sense of peace.
Live handpan by musician/DJ Leela (Bart) will create a peaceful yet grounding atmosphere throughout and after the ceremony, taking you on an inner, meditative and sound journey.
After the ceremony, you are welcome to stay to connect and enjoy a picnic in nature together. If you wish to join us for a picnic after, please bring your own picnic blankets, food, snacks and drinks.
This afternoon is perfect for anyone who longs to slow down and enjoy a deeply nourishing & restorative moment through the combination of Tea Ceremony, Meditation, Handpan Sound Journey & Nature Connection Walk.
This co-creation between LeilArts & Experience Mindfulness is born out of our shared love for mindful living, harmony and nature as well as sharing in community in an authentic, creative and wholesome way. Looking forward to share with you soon!
Please sign up
here
for this event
Why is living with the season's important?
Nature's cycles are a mirror into our own cycles and rhythms. Nowadays we live very sheltered mostly indoor lives, often fast-paced with ongoing access to conveniences such as 24/7 connectivity, artificial lighting, heat, air conditioning and food and resources that come from faraway lands. We tend to think this is normal and we can sometimes forget we are part of this natural world unfolding. Deep inside though we know how intrinsically interconnected we are to it and how wise it is to follow its rhythms that support our own existence in every way. Becoming totally out of sync with these rhythms (as modern, fast-paced life often is) harms our environment and threatens our own health and wellbeing.
Let's gather, remember and reclaim this wisdom that we once lived by, that we still hold deep within for our own well-being and the vitality of our community and natural surroundings.